Vacuformed Scenery: Good Enough?
JurjenB

on July 1, 2017 - 23:10
We bought for our club a load of Amera 28mm scenery. The wargame scenery market is dominated by resin, hard plastic and laser cut MDF plastic. I prefer hard resin but resin is expensive, and so are large MDF buildings. Our club budget has its limits. Amera is vacuum formed scenery. 
Vacuforming involves heating a plastic sheet until soft and then draping it over a mould. A vacuum is applied sucking the sheet into the mould. The sheet is then ejected from the mould. In its advanced form, the vacuum forming process utilizes sophisticated pneumatic, hydraulic and heat controls thus enabling higher production speeds and more detailed vacuum formed applications.
For a how-to DIY movie, check this. Party masks are a well-known example of vacuformed objects.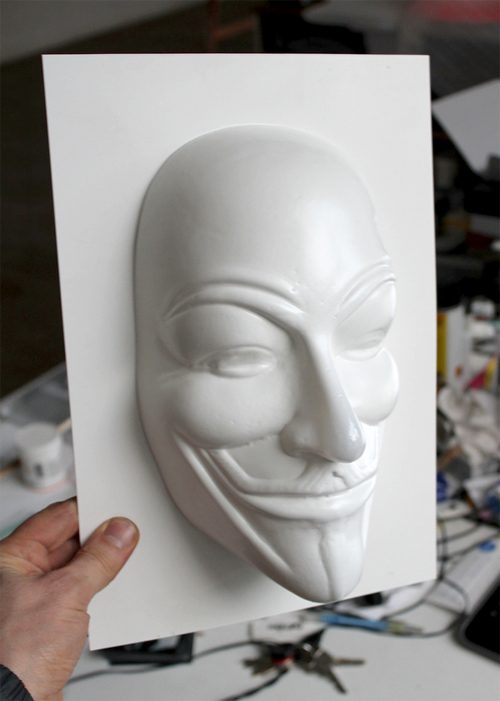 Amera sell vacuformed scenery. We bought
9 vacuformed 30mm trench sections (4-5 GBP per section)
a factory (GBP 9,95)
a bunker (GBP 7)
and a crashed-gunship-on-a-hill scenery item (GBP 4).
Total 58 GBP. Excellent for a WW2 or post-apoc wargame table. First big advantage: the great value for money. We received a big box. 
The trench sections
Unpainted Amera trench section, above. 30cm. 
Vacuformed Amera scenery has not the same fine detail as resin. It's good enough, but really sharp corners and deep carves or creases are impossible to form.
This is resin,below.
Cost of this resin piece: 4GBP per section, 10cm. Beautiful. Yes. But 12 GBP for 30cm. In other words, a resin trench is a factor 2,5 more expensive than Amera vacuform.
I started painting. We want to use the item asap, so I did some speedpainting. I sprayed a black undercoat, spray can: I sprayed a brown top coat, spray can: I drybrushed the vertical wooden boarding, light brown: and quickly greyed some stones. Finally: Army Painter.
After drying I flocked the hill. Total time per trench section: maybe ten minutes maximum. Here the result.
Sure, on close inspection I can spot a difference in fine details, compared to resin. Not diorama quality, but excellent for a wargame table. Four out of five stars. And instead of just a few sections I have enough for several tables or a very long or very angular trench section. 
Bunker
For comparison: a nice resin bunker, below.
Nice, but 24,50 GBP. Below the 7 GBP vacuform model. Removable roof.
I used very cheap 'concrete effect' paint from the DIY-shop. Happy with the look. Just as good as resin.
Factory
A large laser cut factory is GBP 50.
Excellent. Very nice. Below the GBP 10 Amera factory:
Muti-part. Soft, easy to cut plastic. Some glueing needed.
Again, a relatively quick paint job mostly with spray can & army painter. The plastic building is a little flexible, but sturdy. However I added 2 internal walls to strengthen the construction a bit more. It can carry a whiskey glass without problem. Look how big it is, compared to the 28mm miniature standing in the door.
Ruined walls and broken stones and damaged floors are in reality very angular, creased, cornered, odd-shaped, rough. Compared to resin and (the better) laser cut models, the Amera factory inside walls and floor were less detailed and more curved. Soft plastic has a smooth surface. The inside appeared too 'plastic'. So I glued woodsticks and other rubbish on the floor to improve the ruined look. That worked.
The Gunship
For comparison: a 1/48 Revell model, DIY scenery. The Revell model will cost 12-16 GBP via Ebay.
Wonderful! Below my vacuformed Amera 'crashed gunship'.
As with all vacuform, the 'lines' (for example between wing and sand, or between door and gunship body) are less 'sharp', they are 'softer'. I used Army Painter Dark Tone (black pigmented wash/varnish) to artificially deepen the lines. The slope was flocked to remove the plasticlook.
Conclusion
Yes, vacuformed scenery is less detailed than five-star resin, hard plastic or four-star-laser cut buildings. In particular buildings and vehicles look sharper in hard plastic. No doubt.
However, with the right paint job, textured paint, good flocking and some added detail the vacuformed Amera scenery will be an excellent value-for-money-deal: sturdy, inexpensive, lightweight, goodlooking standard playing pieces, excellent for regular gaming. I'd rather buy a 10 pound Amera factory and spend 40 pound on miniatures, than pay 50 pound for a large factory and have no money left.
And no, this blog was not sponsored, I do not own Amera shares and many other club scenery items will be bought in resin. But with these pieces I'm very content.